How can I integrate the tools using 1&1?
Your hosting company, 1and1, requires that you be upgraded to their Website Builder Plus ($9.95 monthly) for integrate DJ Intelligence directly by use of iFrames.
Standard linking to your tools by method of standard hyperlink, is covered at no additional cost.
1) Log in to your 1and1 account
2. Enter your Customer ID or Domain Name, and your Password, proceed by clicking the LOGIN button.

3. Under
Website Applications
click on
Website Builder
4. From the domain list, click on the domain name of the website you wish to add your tools to.
5. Click on the
Pages
button.

6. Select the page you wish to edit and click
Edit

7. Once the page is in edit mode, click on the
Insert Your Own Code
button.

If you are not on the correct package, you will be asked by 1and1 to upgrade to WebsiteBuilder Plus
as shown below: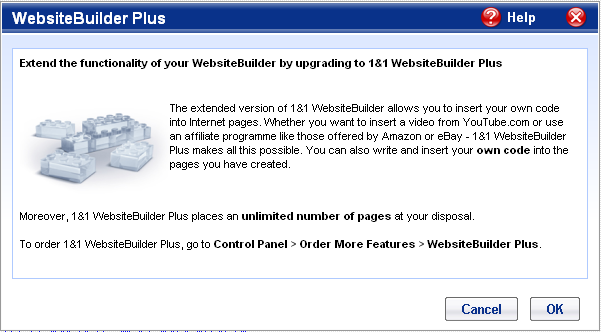 Please feel free to
contact us
for further explanation, clarification, or assistance.